Thinking about Buying or Selling?  Maybe Planning a Visit?
You've come to the right place.  When you're looking for a place to live or vacation, you won't find anything more beautiful than Watauga Lake.  The Lake is located in Butler Tennessee, and covers parts of Carter and Johnson counties. Nestled in the Appalachian Mountains of Northeast Tennessee, Watauga Lake offers waterfront homes and building sites while preserving the natural beauty of a lake in the mountains. Come for a vacation and stay for a lifetime.  Everything you every wanted to know about life on and around the lake is right here, let's jump in!
Jump to:
Homes For Sale
Lots For Sale
About Watauga Lake
Join Our Facebook Group
Check Weather
Map
Marinas
Camping
Dining (new tab)
Attractions (new tab)
Communities
Meet Your Realtor®
Homes For Sale
Watauga Lake waterfront homes can range in price from the $300s to over $3 million.  Home sites range from large waterfront home sites, to the tucked away homes with a dock at the water and everything in between. Search Watauga Lake Homes For Sale. We also have homes that are not water front, but have lake access or lake views, contact Donaven Braun Realtor® to discuss your specific wishes. Back
Lots For Sale
Watauga Lake waterfront lots range in price from the $50s to over $3.4 million.  Lot sites range from large waterfront sites with 1000's of feet of water frontage with 10-30 acres, to off water 1/2 acre home sites with community water access via dock, ramp, or shorelines. Search Watauga Lake Lots For Sale. We also have lots that are not water front, but have lake access or lake views, contact Donaven Braun Realtor® to discuss your specific wishes. Back
About Watauga Lake
Watauga Lake was formed when the Watauga Dam was constructed starting in 1942 and completed in 1948 and is surrounded by the Cherokee National Forest.  Both the Watauga River and the Elk River feed the lake.  The Tennessee Valley Authority (TVA) uses the reservoir to generate hydroelectric power.  At 1,959 feet above sea level, Lake Watauga is the highest reservoir in the series of 7 dams under the TVA system.  The city of Butler, which now sits underwater, was relocated to what is now known as Butler.  If you want to know more about the history of Butler, be sure to check out the Butler Museum.  Watauga Lake is just over 16 miles long and has almost 105 miles of shoreline.  At summer pool levels, the lake covers 6,430 acres and is about 265 feet deep at the dam, with an average depth of 52.5 feet.  During the wintertime, TVA drops the water level about 10 feet for flood storage, but most dock owners are not impacted. Visit TVA online or using their phone app for water levels on Watauga Lake. Back
Watauga Lake Facebook Group
Join the popular Facebook Group Watauga Lake Living. Whether you live, work, relax, or just want to learn more about Watuaga Lake, this is the place for you to share what you do and love around the lake. For Sale By Owner homes and lots and docks.  Needing a recommendation for shoreline erosion? Looking for a nearby AirBNB? Wanting to buy a kayak? Searching for dock advice? Considering moving to the area and want to hear what the locals have to say? Share photos of the family vacation or the 4th of July parade! This is your place to share, learn, laugh and enjoy everything that is the Watauga Lake community. Back
Watauga Lake Weather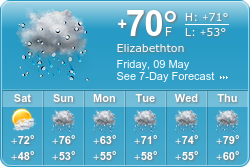 Watauga Lake has a rather mild climate but still enjoys all four seasons.  Summer temperatures range from 62° to 84° with winters ranging from 24° to 44°.  The average monthly rainfall is from 3.3″ in November to 5.6″ in July.  We average 25 days of snowfall per year with just under 16″ being average for January.  Snow generally burns off by the afternoon.  Daylight ranges from 10 hours per day in December and January to 14.5 hours in June and July when you want to be on the lake the most. Back
---
Watauga Lake Marinas
Watauga Lake is home to six marinas with a wide range of amenities. Below you will find a list briefly showing some of the offerings of each as well as links and a map. You can also navigate on the map below and click the links on the map for more information about what each marina has to offer, directions, websites, phone numbers, google reviews, photos, etc.
1️⃣ Lakeshore Marina rentals, fuel, restaurant, bar, cabins, service
2️⃣ Fish Springs Marina rentals, fuel, RV camping, service
3️⃣ Cove Ridge Marina fuel, grill and ice cream, RV camping, service
4️⃣ Mallard Cove Marina fuel, grill
5️⃣ Bayview Marina RV camping
6️⃣ Pioneer Landing RV camping
Back

Watauga Lake Camping
Watauga Lake offers several camping options from full hook-up to an island only reachable via water, you're sure to find something perfect.
Clifford Island via water only, primitive
Little Stoney Creek primitive, easy access
Cardens Bluff primarily tent with some RV, showers, toilets, NO Electric, great lake access
Watauga Dam RV, electric, water and sewer
Bayview RV, electric, water and sewer
Pioneer Landing RV, electric, water and sewer
Back
Watauga Lake Communities
Watauga Lake is home to many unique communities each offering amenities such as water front or water access, water view and mountain views, boat ramps, community and private docks and slips, gated, restricted or unrestricted, short term rentals, home size requirements etc.  We will help you navigate the waters to your perfect lake home or home site. Back
About Donaven Braun
As your Watauga Lake Realtor, know that I am invested in our lake community, live here year-round, work full time as a real estate agent, and am the proud father of Ella and Little Donaven. I can help you sell your home or land and get the most money at closing as possible. If you are a buyer looking for a waterfront or water access home, home site, or land, I can help you get the best value for your budget.
I spend time with my clients to ensure that they understand the pros and cons of buying or selling, peak season, off season, waterfront, water access, full pool vs winter pool access, water view, mountain view, Johnson City and Hampton side of the lake versus the Mountain City or Boone NC sides of the lake.  I will consider summer and winter access, amenities such as snow skiing, VA hospital or road accessibility considerations.  Once I truly understand your hopes and dreams for your lake property, I can give you the service you expect to get from a local expert. Relocating or retiring to Tennessee comes with lots of advantages; we enjoy low property taxes, no state income tax, no retirement income tax, and low vehicle registration costs. Give me a call today and experience 5-star service for yourself. Back
Donaven Braun
423-525-9252 text/call Email Me
Chat Now!
Follow me on Facebook